Saint Vincent and the Grenadines is a member of the World Trade Organization (also referred to as the WTO). It is the only international organization dealing with the global rules of trade. Its main function is to ensure that trade flows as smoothly, predictably and as freely as possible. WTO issues affects us all in one way or another as it deals with goods and services of which we consume daily. The WTO can cut living costs and raise living standards, settle disputes and reduce trade tensions, stimulate economic growth and employment, cut the cost of doing business internationally, encourage good governance, help countries develop, give the weak a stronger voice, support the environment and health, and contribute to peace and stability.
As we now face the COVID 19 Pandemic the transparency mechanism of the WTO is an important component of the daily interaction of WTO members, allowing countries to have quick knowledge of what others are doing. The new COVID-19 notifications could include not just the measures countries are taking, but also the supply shortages they face. This type of notification system could help in identifying the places where the need for resources are most critical, giving businesses and governments the information they need to coordinate an effective response.
The Ministry of Foreign Affairs, Trade and Commerce is the Ministry responsible for the coordination of WTO matters and as part of its remit, the Ministry currently houses the WTO Reference Centre. The objective of the Reference Centre is to enable government officials, the private sector and the academic community to have a regular updated and direct privileged link to the trade information resources of the WTO Secretariat, Geneva. The Reference Centre serves as a good resource tool for policy makers, technical practitioners and students. The Reference Centre houses information on trade issues regarding not only WTO, trade issues on OECS, CARICOM and CARIFORUM can also be found at the Reference Centre. It is equipped with books, reports, publiciations, and computers to access online databases and e-learning platforms.
To learn more about trade issues and the WTO, the ministry invites you to enroll for free online courses at the WTO E-Campus @ www.wtolearning.csod.com. Certificates are earned at the end of each successful course.
.
Visiting the Reference Centre is encouraged however due to COVID 19 it is advised that you call ahead to schedule your visit.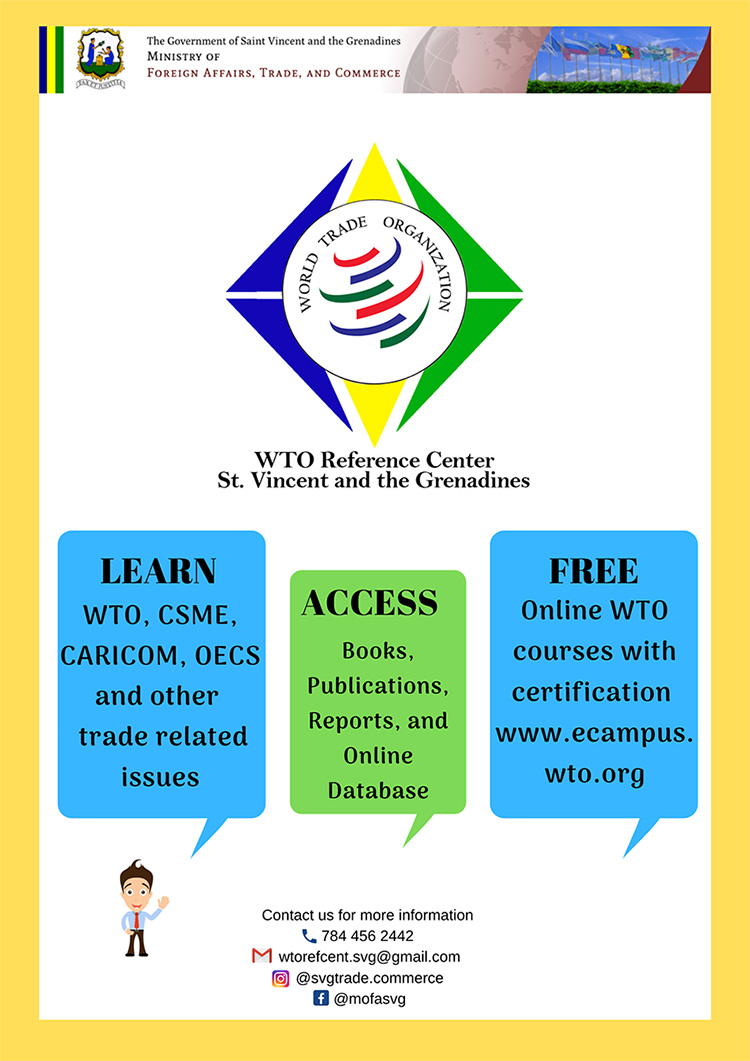 WTO Reference Centre Documents