H.E. Le Viet Duyen, Ambassador Extraordinary and Plenipotentiary of the Socialist Republic of Vietnam presented Letters of Credence to H.E. Dame Susan Dougan, GCMG, OBE on Wednesday, 10th October, via the online platform Zoom.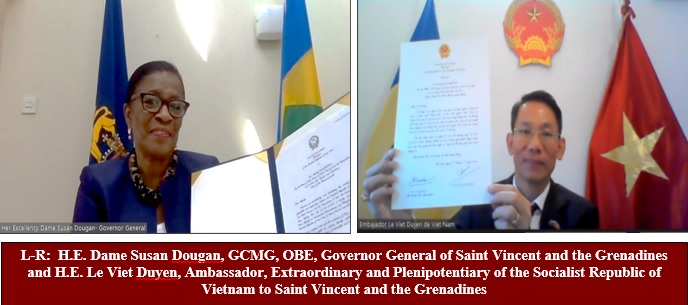 H.E. is a professional diplomat who has built up a wide range of experience in various fields of bilateral and multilateral diplomacy and management including being the Deputy Director, Director, then Assistant Director-General of Personnel and Organisation in the Vietnam Ministry of Foreign Affairs and Deputy Director-General at the Association of Southeast Asian Nation (ASEAN) 2010 Secretariat.
Prior to His Excellency's current appointment, Ambassador Duyen served overseas as the first Consul-General of Vietnam in Perth, Western Australia, in establishing the Vietnam Consulate from 2012 to 2016. In terms of academic accomplishment, he holds a Ph.D. in International Relations from the Diplomatic Academy of Vietnam and is an author of the book "The Renovation of Vietnam's Foreign Policy Toward ASEAN during the period 1986 – 2016", published by the Gioi Publishers in 2018.
Ambassador Le Viet Duyen serves as Resident Ambassador to the Bolivarian Republic of Venezuela and is also concurrently accredited to the Republic of Colombia, Grenada, Barbados and Saint Vincent and the Grenadines.
The Ministry of Foreign Affairs and Foreign Trade and by extension the Government of Saint Vincent and the Grenadines welcome the newly appointed Ambassador and renew the Government's commitment in working together to strengthen the bilateral cooperation between both countries.
SOURCE: Ministry of Foreign Affairs and Foreign Trade