One hundred and forty-three (143) students throughout St. Vincent and the Grenadines are in a better financial position to prepare for the upcoming school year following the Annual Cenio Lewis Education Fund Award Ceremony held at the Methodist Church Hall on Monday, 24 August, 2020.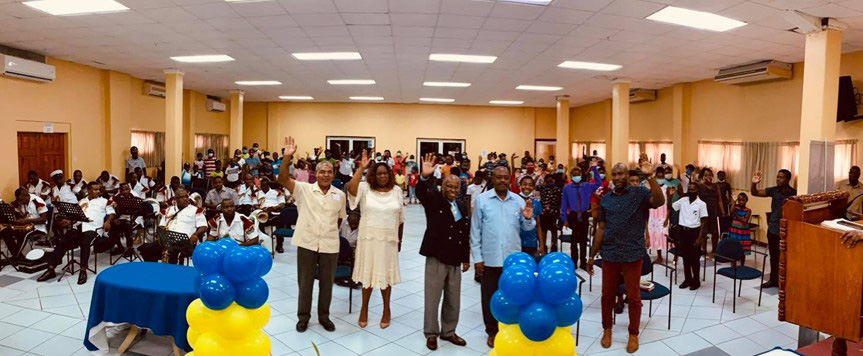 (Front Row L-R)
Montgomery Daniel - Minister of Housing, Informal Human Settlements, Lands and Surveys and Physical Planning, Senator the Hon. Dr. Mineva Glasgow – Deputy Speaker of the House of Assembly, Hon. Sir Louis Straker - Deputy Prime Minister and Minister of Foreign Affairs, Trade & Commerce, Hon. Frederick Stephenson - Minister of National Mobilization, Social Development, The Family, Persons with Disabilities and Youth and Dr. Orando Brewster.
The Fund, which was established in 2005, is replenished yearly by the generous donations from Vincentians in the diaspora, through organisations as well as Honorary Consuls wishing to contribute to the development of Education in St. Vincent and the Grenadines.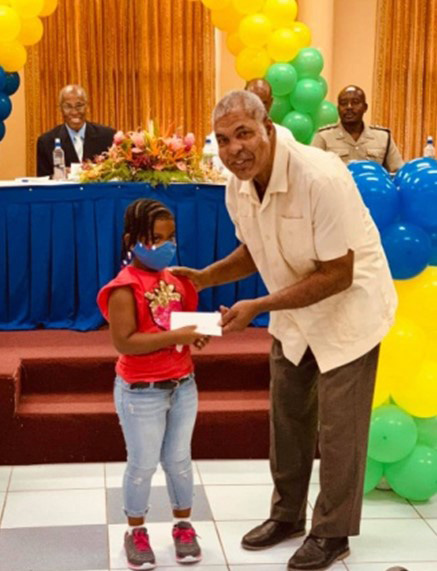 Minister Daniel distributes bursary to student
Speaking at the ceremony, Director of Foreign Policy and Research Mr. Mozart Carr encouraged parents to ensure bursaries being presented are used in the most effective way and that they encourage their children the take advantage of the various educational opportunities available.
Director Carr further encouraged the students present to stay focused and to ensure that they do not give into the many distractions that would seek to rob them of the opportunity to become productive citizens.
The students and parents at the ceremony were also given the opportunity to hear about the Police youth clubs and the benefits to be derived from being a member of these groups during a special address delivered by Assistant Superintendant of Policy, Junior Simmons. Some of the benefits as outlined by ASP Simmons include; musical training, summer programmes and educational scholarships.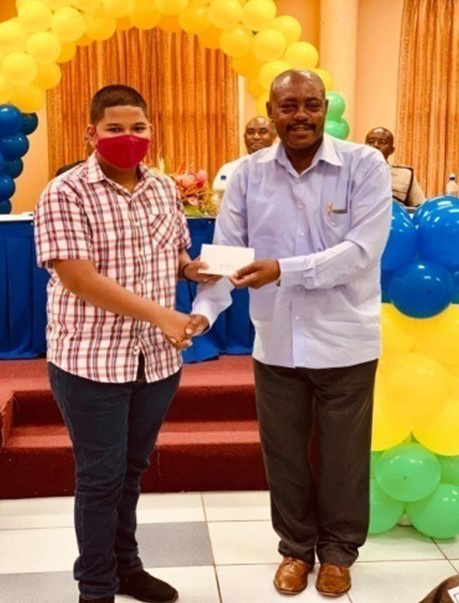 Minister Stephenson distributes bursary to student
Hon. Sir. Louis Straker, Deputy Prime Minister and Minister of Foreign Affairs, Trade and Commerce during his feature address took the opportunity to reiterate the government's commitment to the continued facilitation of opportunities to assist the youths of St. Vincent and the Grenadines to develop academically. During his speech, he conveyed his heartfelt appreciation to His Excellency Cenio Lewis, High Commissioner to St. Vincent and the Grenadines for his continued commitment toward the annual fund despite the current global financial strain as a result of COVID-19.

The number of recipients benefiting from the Cenio Lewis Education Fund has grown exponentially throughout the years; 2020 recorded the highest number of recipients receiving financial bursaries.