One Vincentian is among the Chevening Scholarship recipients for the academic year 2020-2021. The British High Commission shared the information on Wednesday, 19th August 2020.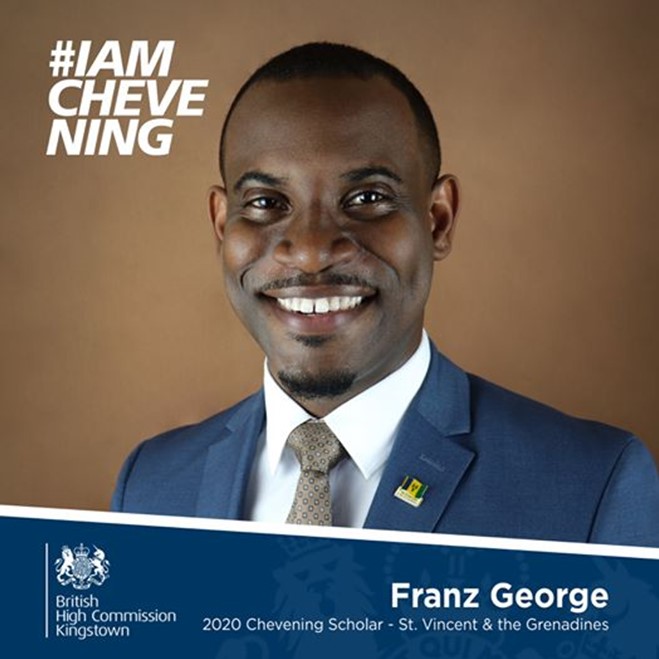 The Vincentian awardee is Mr. Franz George, a Vincentian youth leader hailing from Diamond. Mr. George will be pursuing a master's degree in Industrial/Organisation and Business Psychology to help shift the culture surrounding quality work and organizational performance in SVG by helping organizations and businesses to become more innovative and work friendly, efficient and impactful.
Mr. George will complete studies at the University College London. Across the OECS and Barbados, there are eight other awardees including:
Loretta Benjamin – Antigua and Barbuda
Simon Dias – Antigua and Barbuda
Franz George – Saint. Vincent and the Grenadines
Olvine Holas – Grenada
Danielle Howell – Barbados
A'Shane O'Keiffe – Antigua and Barbuda
Naomi Matthew – Dominica
Keryn Nelson – Saint Lucia
Toni Thorne – Barbados

Applications for 2021/2022 Chevening Scholarships are open and will close on November 3, 2020. Interested persons should apply at www.chevening.org. The Chevening Scholarship scheme is the global scholarship programme of the British government. The scholarships are awarded to exceptional individuals with leadership potential, enabling recipients to study one-year masters courses in a range of subject areas at UK universities.
The scholarships are funded by the Foreign and Commonwealth Office and aim to support UK foreign policy priorities by creating lasting positive relationships with future leaders, influencers and dream makers.
SOURCE: Ministry of Foreign Affairs, Trade and Commerce