The Permanent Secretary in the Ministry of Foreign Affairs, Trade & Commerce, Mrs. Sandy Peters-Phillips, represented this country at the 39th Geneva Week General Council meeting, which was held at the World Trade Organization (WTO), from 14th – 18th October, 2019.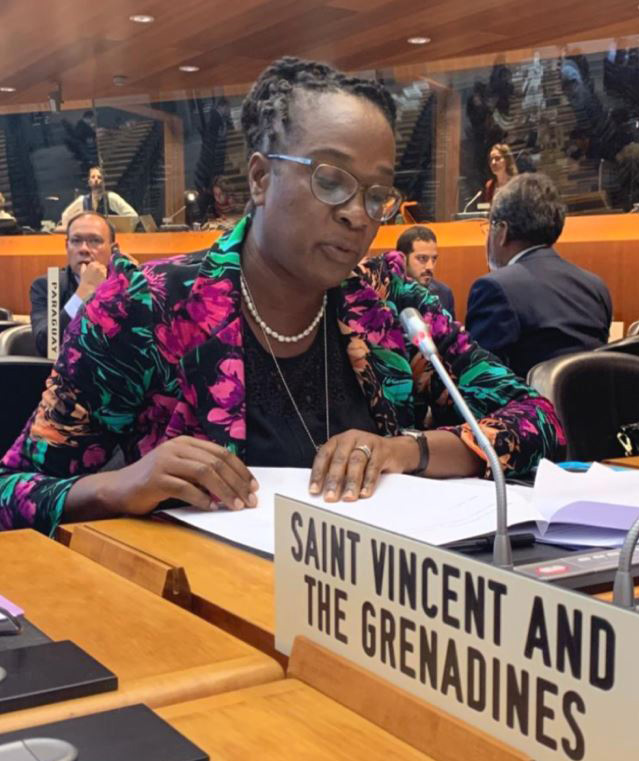 During the week, a number of issues were discussed, including Trade and Natural Disaster, Trade and Gender, Fisheries Subsidies Negotiations, Agriculture, E-Commerce and WTO Reform.
At the Trade Negotiation Committee, Permanent Secretary, Peters-Phillips, delivered a statement on behalf of the OECS, and reiterated that, for small states, the WTO is more than a collection of rules, more than a seat for the adjudication of disputes, and more than a focal point for transparency. The WTO, she reminded, serves as an insurance policy against the arbitrary use of economic force by the strong against the weak. It provides a forum for the concerns of both the strong and the weak to be ventilated.
Saint Vincent and the Grenadines joined with other countries, including, Saint Lucia, Solomon Islands, Sri Lanka and Vanuatu, as co-sponsor of a proposal on Expanding the Scope and Mandate for the Geneva Week. This initiative will allow for representatives from member states that do not have a permanent mission in Geneva, to spend a week at the WTO to receive an overview of the main developments taking place such as the WTO Reform, the Joint Statement Initiatives, Agriculture, Fisheries Subsidies and Services Negotiations. The Geneva Week Programme offers non-resident officials a birds-eye view of the multilateral process in motion.
One of the key objectives of Geneva Week was to update capital-based officials on on-going key issues underpinning the work of the multilateral trading system, allowing them to have a broader and deeper understanding of the Geneva-process and the means and methods of work within the WTO.
The members of the General Council also granted approval for the renewal of the waiver to allow for the continuation of duty free access to the United States to eligible products from the Caribbean, under the Caribbean Basin Economic Recovery Act (CBERA). The waver will last until 2025.
SOURCE: Ministry of Foreign Affairs, Trade and Commerce