The Jamaica Center for the Arts and Learning (JCAL), in collaboration with the Jamaica Performing Arts Center (JPAC), hosted a Caribbean Exposition and Cultural event themed: "Spirit of the Caribbean".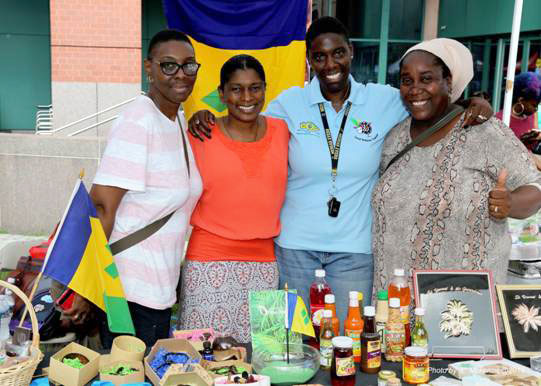 The event took place on 4th August 2018, at the Jamaican Performing Arts Center in Queens, New York, United States of America, and showcased a wide variety of Caribbean food, music, dance, arts and culture.
The Jamaican Performing Arts Center is a 45-year old multi-disciplinary urban arts center, located in the diverse community of South East Queens, New York. It is well known amongst the Caribbean Diaspora living in New York, as an incubator for creative development, and providing a wide range of education, performing and visual arts programs. More than 35,000 persons, of all ages and backgrounds, participate annually in these programs, which include a multi-cultural series of music, theater, and dance performances. The Center, which falls under the auspices of JCAL, promotes Caribbean talent, and is associated with VP records, the largest reggae label known for releasing music by notable artiste in reggae, dancehall and soca.

The Spirit of the Caribbean Expo presented stylistic expressions in song and dance that celebrated the diversity of the Caribbean Diaspora culture in Queens. The Embassy of Saint Vincent and the Grenadines – Consulate New York; along with the Vincentian Community in New York, promoted Vincentian products such as: sweets, jellies, condiments, herbs and spices, farine, beverages, chocolate, soaps and skin care products.

Ms. Idesha Jackson, a Vincentian entrepreneur and community organiser, displayed her vegan sweet bread, banana bread, pumpkin and spinach fritters that were delightfully accepted by visitors to her booth. The Vincentian craft sector was also represented through a display of craft made from banana leaves, copper and coconut shells. Vincentian musical artistes: Curtie C, Kahalia Beache and pannist, Wayne Commissiong; were among the entertainers who performed at the event.

The Ministry of Foreign Affairs, Trade and Commerce, would like to thank the Vincentian Diaspora in New York and the SVG Consulate in New York for their continuous effort in promoting Vincentian products, that will bring more global exposure for Saint Vincent and the Grenadines, and facilitate future growth for our local industries.