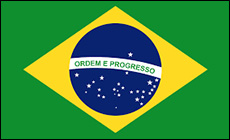 The Federative Republic of Brazil celebrated its 195th anniversary of independence on September 7th, 2017. To mark this special occasion, the Brazilian Embassy in Saint. Vincent and the Grenadines hosted a 'Vin d'Honneur' at the Ambassador's residence at Ratho Mill.

In his address, Ambassador of Brazil to Saint Vincent and the Grenadines, H.E. José Rezende de Castro, stated that former President Lula made a very deliberate policy of acknowledging the Caribbean dimension by opening resident embassies in the whole region. Ambassador Rezende de Castro said it was a conscious decision to engage political and economic organisations in the Caribbean "culminating with our observer status at CARICOM and with Brazilian full membership in the Caribbean Development Bank (CDB)". He reiterated that Brazil's presence in the region is not "restricted to a mere commercial perspective but has a clear political and strategic dimension as well as one of social solidarity".

According to the Brazilian Ambassador, three months ago, the two Governments signed an updated version of their technical cooperation agreement. To start this cooperation, Ambassador Rezende de Castro said the Brazilian Navy has offered to the Government of Saint Vincent and the Grenadines a one-year training course in Brazil for Coastguard Officers: "My Government expects it to be the beginning of a fruitful period of sustained mutual collaboration".

Prime Minister, Dr. Hon. Ralph Gonsalves made congratulatory remarks on Brazil's 195th anniversary of independence. Prime Minister Gonsalves stated that the Government works very closely with Brazil despite the political make up in Brasilia. Accordingly, we share similar ideas for the reform of the United Nations including the reform of the Security Council, Dr. Gonsalves explained.

We are members of the Community of Latin American and Caribbean States (CELAC); in fact, Brazil was, under President Lula, an important founder of CELAC and the pre CELAC meeting occurred in Brazil. Prime Gonsalves recalled his presence at these earlier CELAC meetings. He added that Brazil is a non-borrowing member of the CDB so that when there is a project going on funds are coming from Brazil, from Colombia, Mexico, Venezuela, and Canada – they are all non-borrowing members of the CDB.

Prime Minister Gonsalves acknowledged Brazil's progress on the world stage "as a country of real clout and significance not just in this hemisphere but in the world and we are pleased that under Lula's leadership that he chose to establish diplomatic presence on each of the countries of the Caribbean in that outreach. And I thank him and the Brazilian Government and People very much".
SOURCE: API