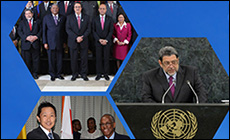 The Ministry of Foreign affairs, Trade and Commerce, will be staging its Diplomatic Week during the period 14th – 19th August.

One of the main features of the week of activities will be the Annual Consultation for Heads of Missions and Consulates abroad, in which various presentations and discussions are expected. The Opening Ceremony for the launching is scheduled for 9:00 a.m. on Monday 15th August at the Ministry of Foreign Affairs conference room.

All Media houses are invited to provide coverage for the following:
Opening Ceremony on Monday 15th August.

Exhibition on Friday 19th August at the old Treasury site.


Please see poster below for further details.