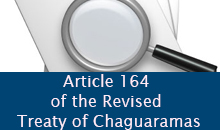 The Ministry of Foreign Affairs, International Trade and Regional Integration, in collaboration with the Ministry of Finance and the Customs and Excise Department, wishes to advise stakeholders of the implementation of Article 164 of the Revised Treaty of Chaguaramas.

Article 164 of the Revised Treaty of Chaguaramas is designed to promote the development of industries in the Lesser Developed Countries (LDCs), of CARICOM, including Belize and Haiti. These countries are allowed to deny certain products originating in CARICOM and extra regional countries from preferential (duty free), entry into their markets.
The Council for Trade and Economic Development (COTED), in 2006 approved the application of the provisions of Article 164.
The Ministry has utilized a licensing regime to provide protection to the industries operating within the OECS. However, to improve the efficiency of the system and provide a greater level of predictability to traders/importer, Parliament, by Act No: 12 dated 11th May 2015 approved the implementation of non-preferential rates of duties on the following list of products.
Tariff Classification

Product Description

Import Duty Rate to be applied on MDC Imports

%

Import Duty Rate to be applied on extra- regional imports

%

1101.00

Wheat of Meslin Flour

70

100

2201.100

Aerated Waters: other waters

70

100

2202.10

Aerated Beverages

70

100

22.03

Beer and Stout

70

100

The new Import Duty rates will be implemented from 1st January 2016. License will be maintained for statistical reasons and issued automatically to importers.