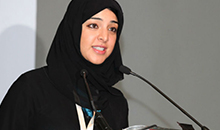 On Tuesday January 12, 2016 H.E Reem Al Hashimy, the Minister of State of the United Arab Emirates, made an official visit to Saint Vincent and the Grenadines, to discuss areas for the strengthening of diplomatic relations between both countries.

During her one day visit, the Minister, who was accompanied by a five member delegation, made courtesy calls on the Prime Minister, the Hon. Dr. Ralph Gonsalves, Deputy Prime Minister and Minister of Foreign Affairs, Trade, Commerce and Regional Integration, the Hon. Sir Louis Straker, and the Minister of Economic Planning, Sustainable Development, Industry, Information and Labour, the Hon. Camillo Gonsalves.
Emanating from the meeting, were fruitful discussions to strengthen bilateral cooperation in the areas of Renewable Energy (Geothermal), Education, Trade, Climate Change, Investment and support for the Zero Hunger program.
Saint Vincent and the Grenadines and the United Arab Emirates established diplomatic relations on February 20, 2009 and are enjoying cordial relations.