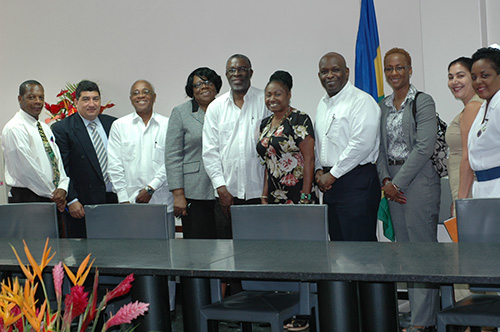 The consultative process has begun here in Saint Vincent and the Grenadines with health practitioners, to initiate the introduction of a drug call Heberprot-P that is expected to reduce the incidences of amputations that are directly related to diabetes.

On 20th March, a delegation comprising two specialists arrived in Saint Vincent and the Grenadines from the Republic of Cuba. The delegation included Dr. Eberto Carrazana Peinado, Angiologist, Vascular Surgeon and Ing Virgina Greenidge Smith, Sales Manager HEBER BIOTEC SA. Since their arrival, the delegation made a courtesy call on Deputy Prime Minister, Hon. Girlyn Miguel; introduced the drug to officials from the Ministry of Health, Wellness and the Environment; and made site visits to the Milton Cato Memorial Hospital and other health institutions. The general public will be sensitised about the drug and its potentials during a panel discussion that will be aired on Sunday, 29th March on NBC Radio.

Heberprot-P is an injectable medication, produced by Genetic Engineering and Biotechnology Center (CIGB) in Cuba as a cure for advanced diabetic foot ulcers. The drug has been credited to reducing the number of surgical operations, cicatrization time, potential complications such as gangrene and infections, and avoids high costs resulting from long-time hospitalisation; it also improves the quality of life and the functional recovery of patients.

The medication has been registered in Cuba and included in the basic medications program. It has been patented in several developed countries.