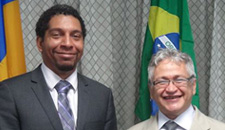 As of November 15, 2014 Vincentians would be allowed visa free access to the Federative Republic of Brazil up to a period of ninety (90) days for visits that include tourism and business purposes.
This new Visa Waiver Agreement was revealed during a press conference by Senator the Hon. Camillo Gonsalves, Minister of Foreign Affairs, Foreign Trade, Commerce and Information Technology and His Excellency Miguel Magalhaes, Chargé d'affaires at the Embassy of the Federative Republic of Brazil to Saint Vincent and the Grenadines held at the Ministry of Foreign Affairs Conference Room on October 30, 2014.

Addressing the conference, Mr. Magalhaes spoke about Brazil's firmness with reference to entry into Visa Waiver Agreements with foreign countries and hopes that this gesture contributes to the further deepening of bilateral relations between both countries.  He also alluded to the wide ranging opportunities that the visa waiver have created such as advancement in the tourism and business sector and encourage persons to take full advantage of them.

Minister Gonsalves in his remarks referenced the similarity in the history and culture of both countries share and anticipates that the agreement fosters the strengthening of closer economic, political and interpersonal connections. He also noted that Brazil now be used as a hub to Africa and facilitate the African, Brazilian and Caribbean (ABC) connection. The Minister of Foreign Affairs encouraged all Vincentians to take advantage of the wide ranging opportunities that Brazil has to offer.