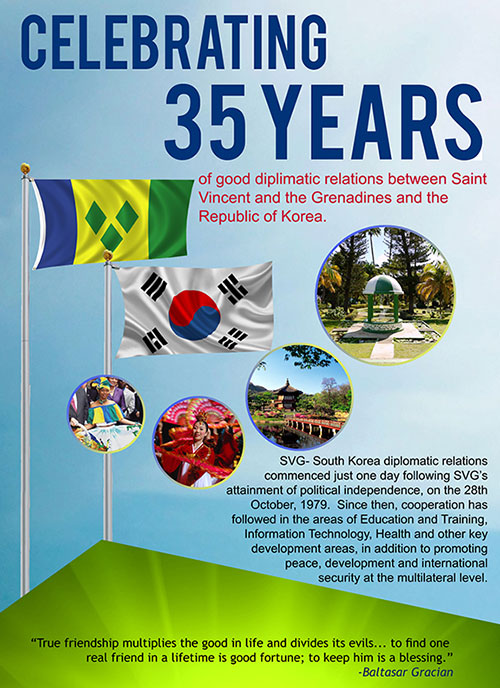 On Tuesday October 28, 2014 one day after this nation celebrated its 35th anniversary of independence from Great Britain, Saint Vincent and the Grenadines will also celebrate its 35th anniversary of diplomatic relations with the Republic of South Korea.
The Republic of Korea also known as South Korea was one of the first nation to establish diplomatic relations with this country as an independent state on October 28, 1979. Since then both countries have enjoyed cordial relations and cooperation has followed in the areas of Education, Training, Information Technology and Health among other key development areas in addition to promoting peace, development and international security at the multilateral level. Specifically, a visa-waiver agreement exist between both countries which mean holders of a Vincentians can travel to Korea for short stays with out any visa requirements and visa vie.

Saint Vincent and the Grenadines has also benefited from its relations with Korea through its membership to regional organization Caribbean Community (CARICOM). In 2006, CARICOM and Korea signed a Consultation and Cooperation mechanism at the CARICOM Secretariat headquarters in Georgetown, Guyana formulating bilateral cooperation between the two sides in a number of areas including the use of ICTs for the community's development.

As a physical expression of its interest in CARICOM and its member-states Korea established a diplomatic mission in Trinidad and Tobago which also serves other members of CARICOM and the OECS. Currently His Excellency Yong Kyu Kwon is accredited as the republic of Korea's Non-Resident Ambassador to St. Vincent and the Grenadines, resident in Trinidad and Tobago.