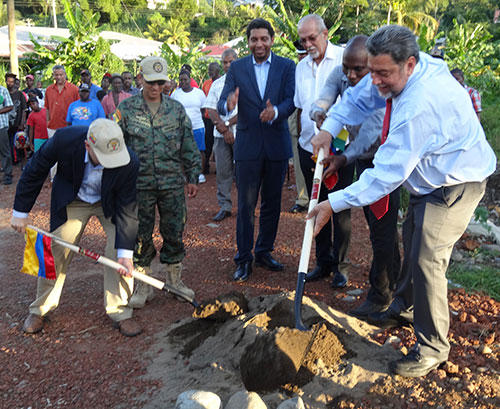 On October 28, 2014 the governments of Saint Vincent and the Grenadines and the Ecuador broke ground at the Hope Bridge in Penniston, a gesture that signalled the start of the reconstruction of bridges project across this country.
A contingent of approximately Forty-five (45) Ecuadorian military personnel is currently in Saint Vincent and the Grenadines to assist with the reconstruction of four (4) Bridges that were destroyed due to the December 24, 2013 floods.

Ecuador's decision to assist this country with its bridge reconstruction project was part of the outcome of the first round of consultation between both countries that was held on May 30, 2014 at the Ministry of Foreign Affairs, Foreign Trade and Commerce Conference Room, that was geared towards the enhancement of fraternal relations between both countries.

Additionally, following the visit of an official delegation to Quito, Ecuador in July, 2014 led by Prime Minister Dr. Ralph Gonsalves, the President of Ecuador, Rafael Correa dispatched a team of engineers to assess the work to be done on the bridges.

The project will commence with an opening ceremony that will be held on Tuesday, October 28, 2014 at the Hope Bridge in Penniston. The opening ceremony of the project is a signal of the growing and unfettered partnership between both countries.