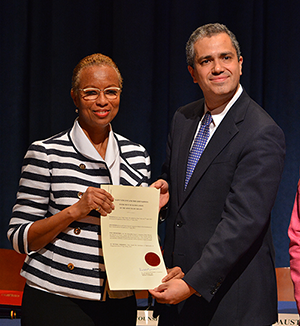 Saint Vincent and the Grenadines is among eight other countries which ratified the historical Arms Trade Treaty on 3 June 2014. The country's Ambassador to the United Nations, H.E. Inga Rhonda King, deposited the instrument of ratification with Mr. Santiago Villalpando, Chief, Treaty Section, UN Office of Legal Affairs in a ceremony commemorating the first anniversary of the opening for signature of the Arms Trade Treaty (ATT). It was also the one year anniversary of Saint Vincent and the Grenadines becoming a signatory to the treaty.
The event, which was co-sponsored by Saint Vincent and the Grenadines, brings the treaty considerably closer to entry into force. To date, 118 countries have signed the ATT, including all of CARICOM. Forty have ratified it, with Saint Vincent and the Grenadines becoming one of six CARICOM countries to do so.

The treaty will enter into force and become legally binding 90 days after the 50th ratification. With only 10 ratifications remaining, there will be a strong push for all governments to sign, ratify and implement the treaty as soon as possible. The ATT is a multilateral, legally-binding agreement that establishes common standards for the international trade of conventional arms and seeks to reduce the illicit arms trade and prevent their diversion.

Saint Vincent and the Grenadines has been instrumental in the ATT process, and even served on the bureau as Vice-President of the 2012 Arms Trade Treaty Conference. Two major regional workshops for CARICOM negotiators were also hosted in the country in May 2012 and March 2013.

Ambassador King in her statement during the event noted that while the Arms Trade Treaty was a necessary first step in answering this call, work still needed to be done. "Until we achieve entry into force and can ensure a strong, universal, and effective implementation, crime and violence as a result of diversion to our porous marine borders will persist."  She also voiced Saint Vincent and the Grenadines' support for Trinidad and Tobago to host the Secretariat of the Arms Trade Treaty, an endeavor that is endorsed by CARICOM.