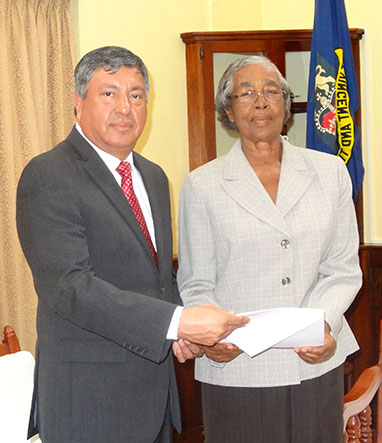 PRESENTATION OF LETTER OF CREDENCE BY H.E LUIS MANUEL LOPEZ MORENO TO THE DEPUTY GOVERNOR GENERAL OF ST. VINCENT AND THE GRENADINES,
HER EXCELLENCY DAME MONICA DACON

Saint Vincent and the Grenadines, on 24 and 25 March 2014, hosted His Excellency Luis Manuel Lopez Moreno, the new Mexican Ambassador to St. Vincent and the Grenadines, resident in Saint Lucia.
While in the state, Ambassador Moreno officially presented his Letter of Credence appointing him as Ambassador Extraordinary and Plenipotentiary to the Deputy Governor General, Her Excellency Dame Monica Dacon at Government House on Monday 24th March 2014.
Additionally, Ambassador Moreno made courtesy calls on key government and private sector officials. They included Prime Minister, Hon.  Dr. Ralph Gonsalves and the Hon. Camillo Gonsalves, Minister of Foreign Affairs, Foreign Trade, Commerce and Information Technology; and President of the Chamber of Industry and Commerce, Ms. Christine DaSilva.
Since the establishment of Diplomatic relations in 1990, both countries have maintained cordial and fruitful relations.  Some of the areas in which both countries have partnered by way of agreements are Economic Relations, Technical and Scientific Co-operation and Cultural and Educational Co-operation. In the area of education, a number of Vincentian students have benefited from both short term and long term academic training in Mexico in various fields.

Regionally, Saint Vincent and the Grenadines and Mexico partner together on issues of mutual interest through their membership of the Association of Caribbean States (ACS), Community of Latin American and Caribbean States (CELAC) and the Organisation of American States (OAS).

Ambassador Moreno also serves concurrently as Mexico's representative to other member states of the Organisation of Eastern Caribbean States (OECS).